It was typical New Zealand kind of weather when we went to Marsden Estate winery restaurant for lunch: 4 seasons in one day… sunshine, rain, sunshine, rain – you get the idea!
Hint: enjoy a wine tasting before your meal
Our visit started with a wine tasting – there's a small charge for this, but there were about 10 or 11 wines to try so it is well worth it!
And it's a great idea to do the wine tasting before lunch, so you can choose your favourite wine to go with your lunch. Just arrive half an hour or so early to give yourself enough time.
Out of all the Bay of Islands wines we've tried so far, Marsden Estate's range is our favourite. The whites are well-balanced and refreshing (but without being too sour), and the reds are fruity and flavoursome. Yum!
Marsden Estate have won numerous awards for their Black Rocks Chardonnay (a whole wall is covered in framed certificates – nearly all for this wine), and we've been lucky enough to try it previously. But they've sold out of the current vintage – the next one will be along soon, so try it if you get the chance.
A beautiful setting for lunch
The restaurant has indoor seating, plus a covered area. It was a busy day at the restaurant (it's very popular – I'd recommend you book in advance) and we were lucky to be seated at the edge of the covered area, right next to the garden.
The garden is like something out of my childhood daydreams: there's a large lake at the bottom, complete with an island in the centre, and a big family of ducks merrily bobbing around and splashing away. The garden's beautifully landscaped with native and exotic plants, and at the far side of the lake there are  rows of grapevines. It's a real feast for your eyes.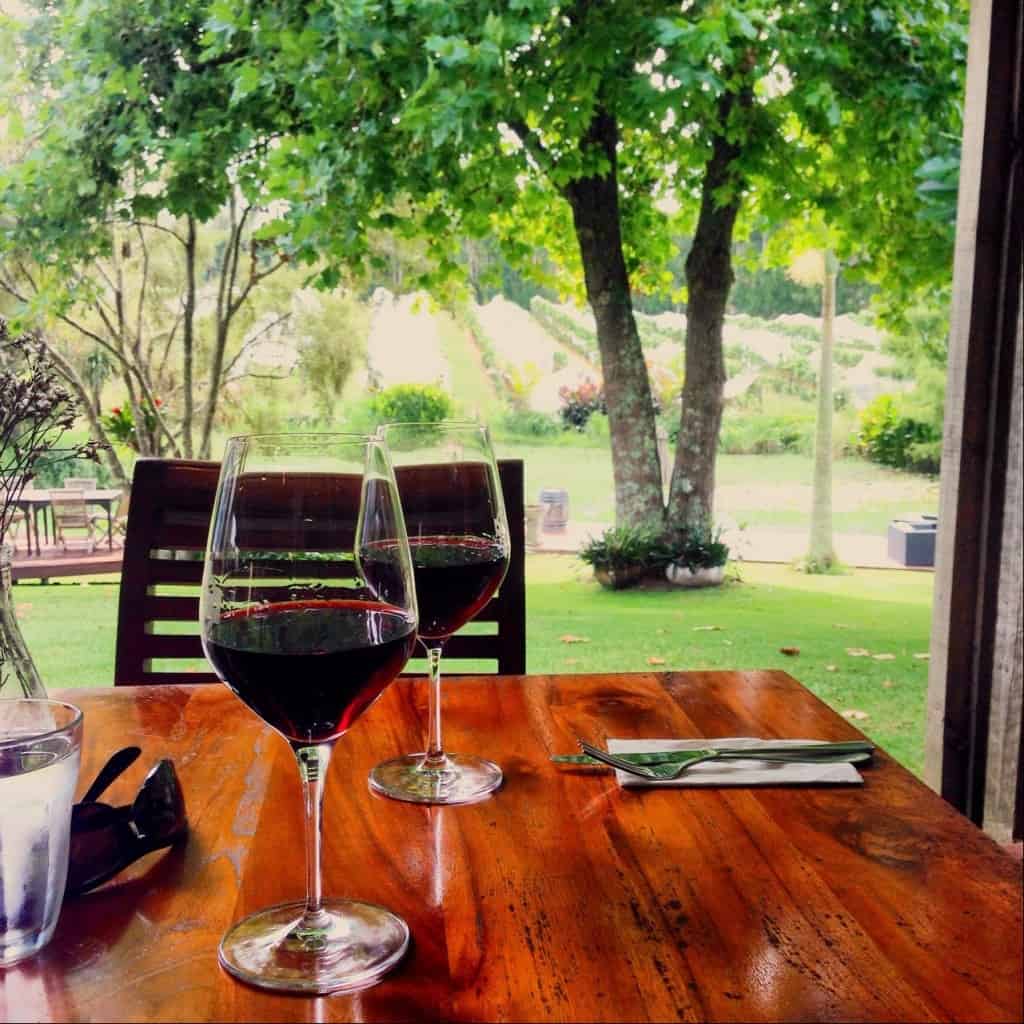 The covered area is nicely done: you sit under the shade of vine leaves. But you're also protected from the rain, as there's barely-noticeable plastic sheeting over the top to make it an all-weather experience. Great for the typical New Zealand weather we were experiencing on our visit!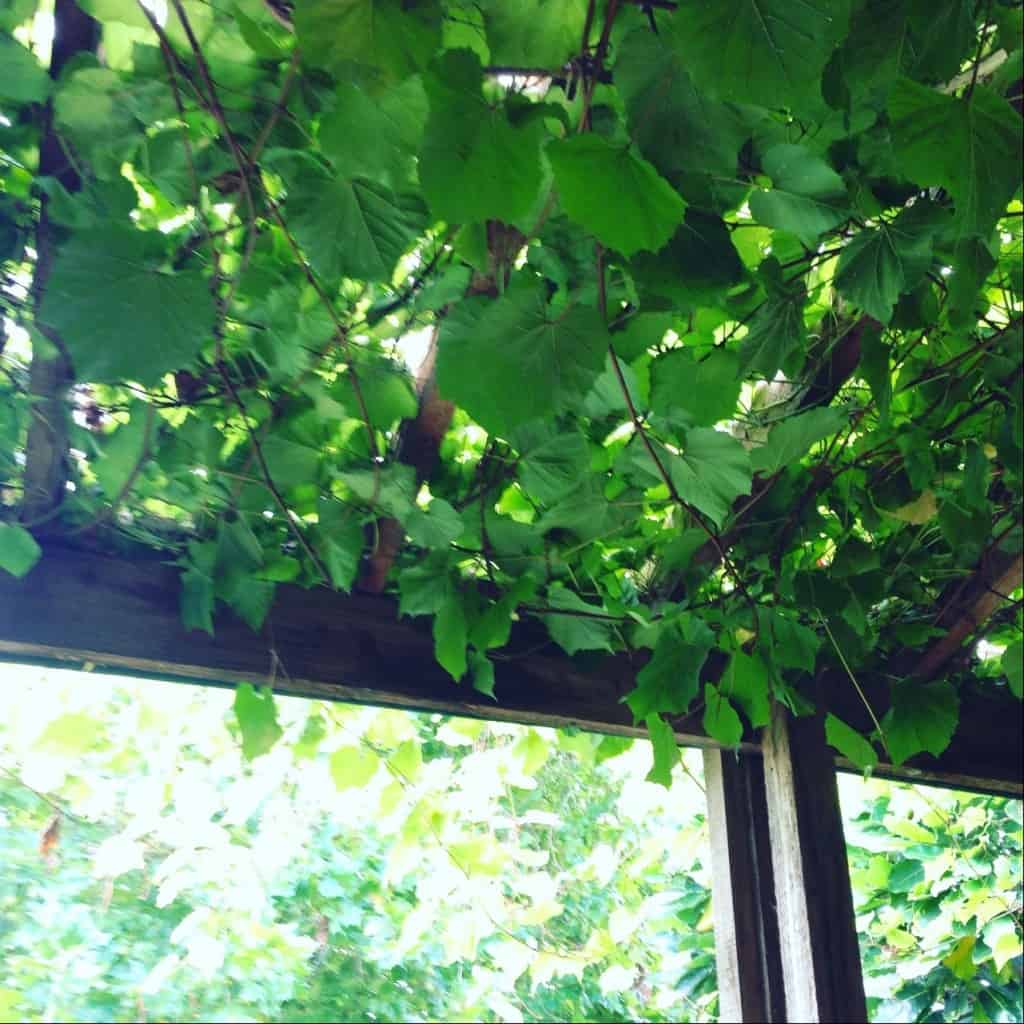 And then, when you're admiring the scenery – the food arrives!
Marsden Estate serves seasonal treats – with a twist
The restaurant has a seasonal menu, and we just caught the end of the summer menu. Mr Baywatcher chose the honey cardamon duck legs, served with a mango, coriander and toasted coconut salad. The salad had a kaffir lime and lemongrass dressing.
Me, I'm a sucker for seafood, so I went with the fish of the day – hapuka with a salad and vermicelli noodles. Just like Mr Baywatcher's meal, mine had Asian influences with a hint of teriyaki… yum!
(You can tell the food was really yummy, because I tucked into it with abandon, completely forgetting to photograph it… whoops!)
The main course was tasty, but for me the real pièce de résistance was the dessert… oh my gosh, these were amazing…
Mr Baywatcher had crème brûlée, served with a citrus and hazelnut biscotti, plus some white chocolate ice cream. It was very very good, but mine was outstanding: rice pudding with ginger, chilli lime, coconut ice cream and sesame praline. The flavours just danced in my mouth – a really nice way to end a meal.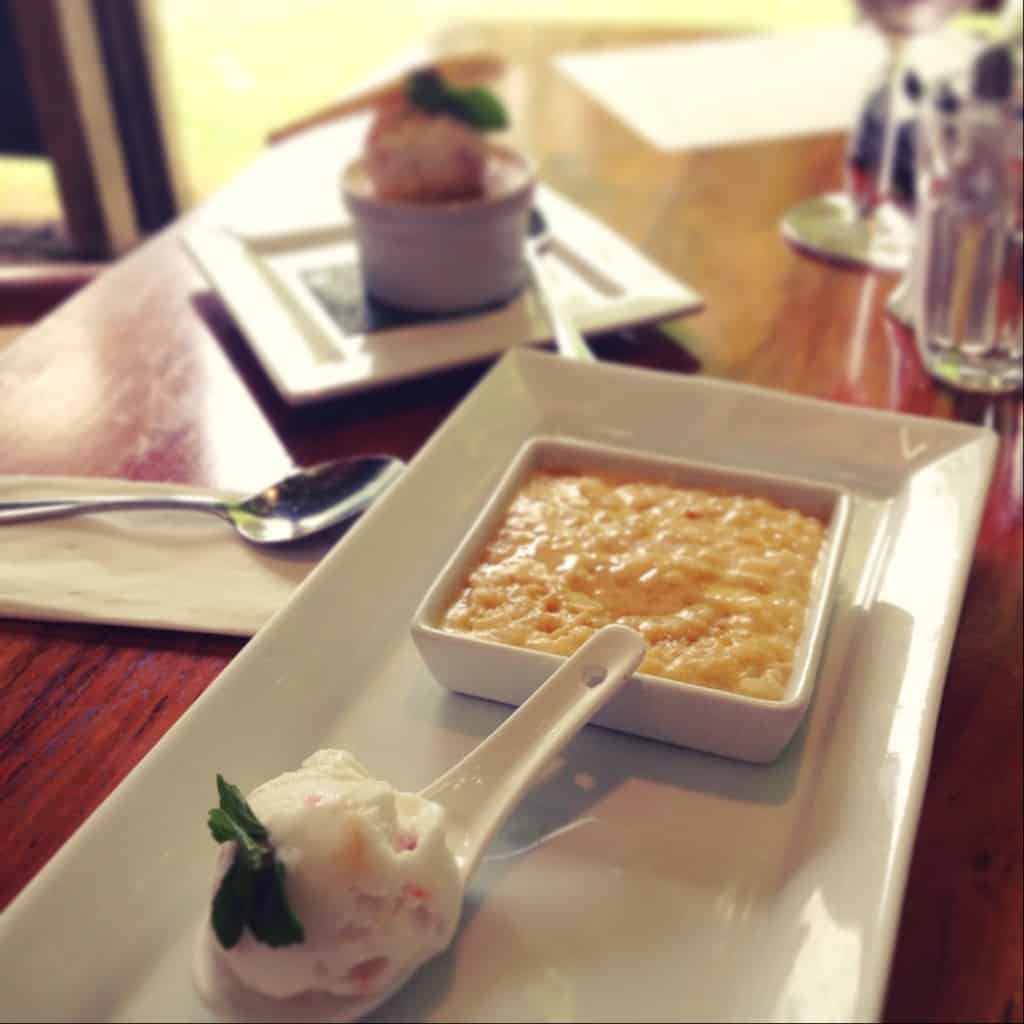 After filling ourselves with so much delicious food and wine, we went for another wee walk around the garden to stretch our legs before going home.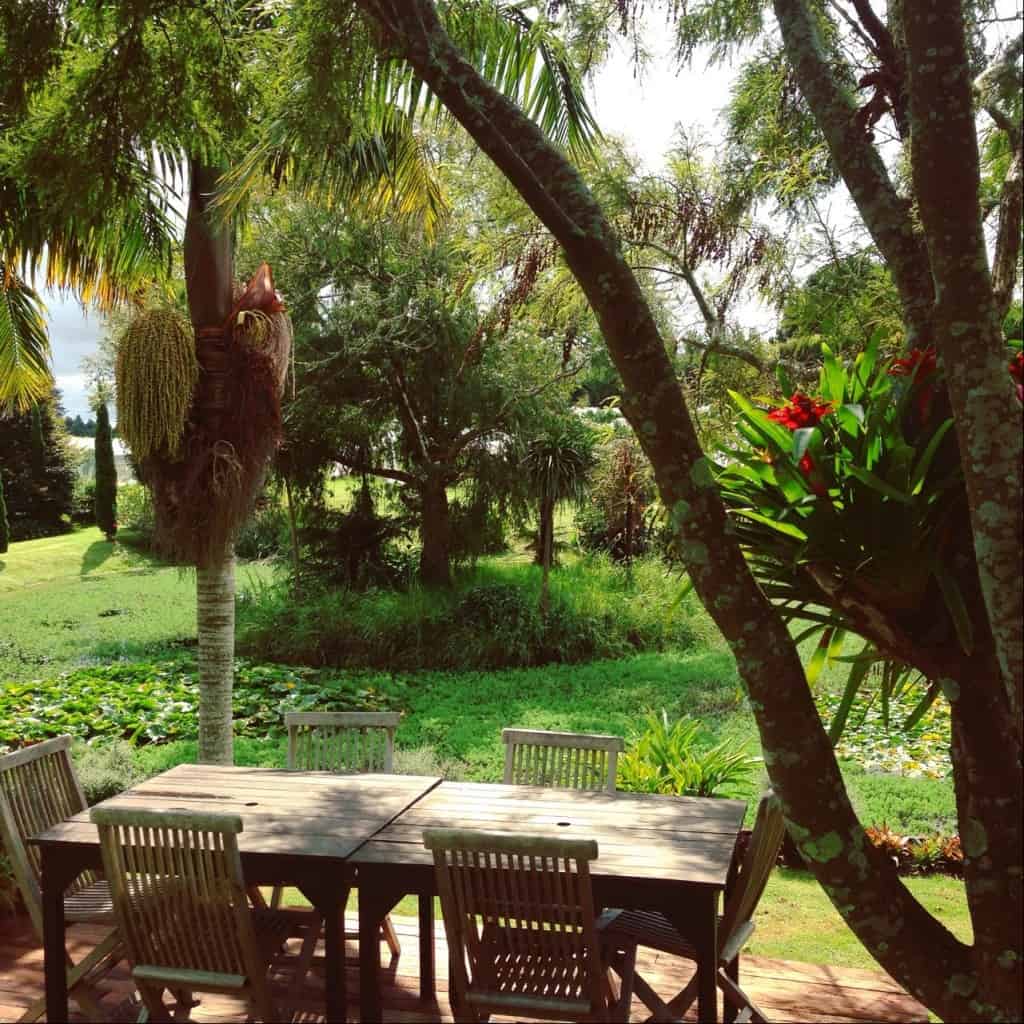 Here's a short, 15-second video clip that gives you an idea of the vista and gardens at Marsden Estate:
I highly recommend a visit to Marsden Estate winery restaurant on your visit to the Bay of Islands: it's a unique, special and very tasty place to visit.
You can find out more about Marsden Estate here: http://www.marsdenestate.co.nz/
Comments
comments