You know that social media's important for your business – but are you struggling to update your Facebook Page regularly?
Perhaps you don't know what to post.
Or you just seem to run out of time.
Or maybe you really hate using Facebook!
If that sounds like you, I'd love to take that hassle away!
I'll meet you at your business regularly; discuss some ideas with you; take photos… and then I'll go and update your Facebook Page. You can then focus on running your business, knowing that your Facebook Page is getting new posts, regular as clockwork. Easy!
With my Facebook Page help service, you get:
Gorgeous photos
Custom-made graphics with your branding
Professionally-written Facebook updates
Strategic social media advice
Peace of mind knowing that your business is being proactive on Facebook.
Here are  examples of the eye-catching, branded graphics I've made for my clients: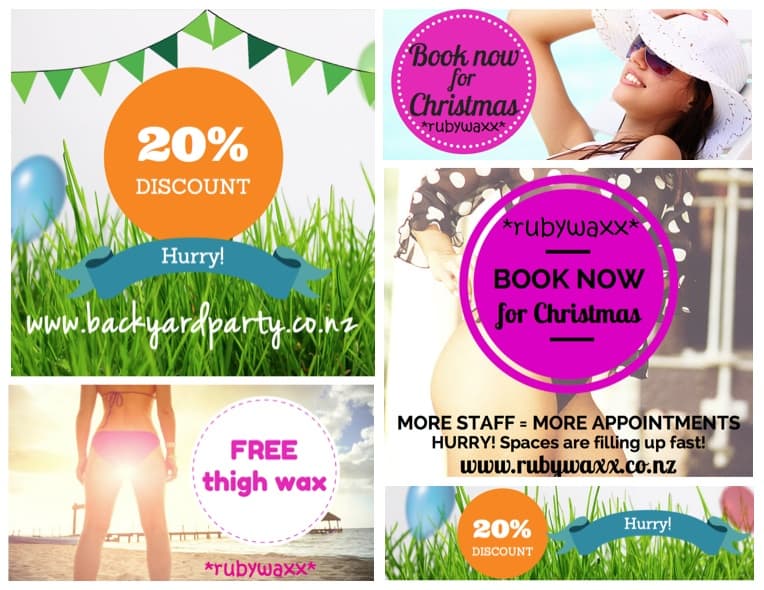 Your business could be just as eye-catching on Facebook, with my Facebook Page help service!
Here are the Facebook Page management options and prices:
There are 2 service levels to choose from – Silver and Gold:
Service Level
Silver
Gold
Initial strategy meeting to identify your business, marketing and social media objectives
Yes
Yes
Number of Facebook Page updates per month
8 per month (2 per week)
16 per month (4 per week)
Creation of eye-catching graphics with your branding, to help you stand out on Facebook
Yes - as needed
Yes - as needed
I visit your business to find out what's new (to get material for the updates), and take a selection of photos
Every month
Every 2 weeks
Professionally written content customised to meet your business objectives
Yes
Yes
You get copies of the photos so you can use them in other marketing projects
Yes
Yes
Strategy review meetings every quarter
Yes
Yes
Monthly investment value
(Dependent on the location of your business. For other locations, please enquire.)
Kerikeri: $280 + GST
Paihia & Opua: $330 + GST
Kerikeri: $520 + GST
Paihia & Opua: $620 + GST
Optional Instagram add-on
i.e. I'll update your Facebook Page posts and also your Instagram posts. (If you just want Instagram, without Facebook, please contact me for a price.)
Important: I only work with 2 Instagram clients at a time, to ensure you get the best service, so this service is subject to availability.
One-off initial fee for hashtag research: $45 + GST
Monthly cost: $65 + GST
One-off initial fee for hashtag research: $45 + GST
Monthly cost: $125 + GST
All prices are in New Zealand Dollars (NZD).
NB: the prices are location-dependent due to the variation in travelling time. (I'm located in Kerikeri, Bay of Islands, Northland.)
If you're happy working remotely via email, I can work with you wherever you are in the world.
In short: you get gorgeous photos! Professional copywriting! Strategic social media advice! Custom-made graphics! And all for a fixed monthly price.
Optional extras:
Setting up a Facebook Page, if you don't already have one.
Setting up your Instagram profile, if you don't already have one.
Help with managing other social media channels (Twitter, Pinterest, Instagram, etc.)
Replying to comments and direct messages on your Facebook Page.
Detailed analytics.
Management of Facebook competitions, giveaways and sweepstakes.
Photo shoots at additional locations.
Creation of graphics for other purposes (e.g. your website and other social media profiles).
Advice on your other marketing activities, e.g. website performance and email marketing.
Please let me know if any of these optional extras sound interesting. We can then talk through your needs, and I can give you a customised price.
What isn't included in the Facebook Page help service:
Boosted (promoted/paid-for) posts. I'll leave it up to you if you want to boost any posts.
Hint: It would pay to do this from time to time, when you have something really important you want to communicate.
Replying to comments and direct messages that visitors leave on your social media accounts. (I can do this, but it will be at an additional cost. See the list above for 'Optional extras'.)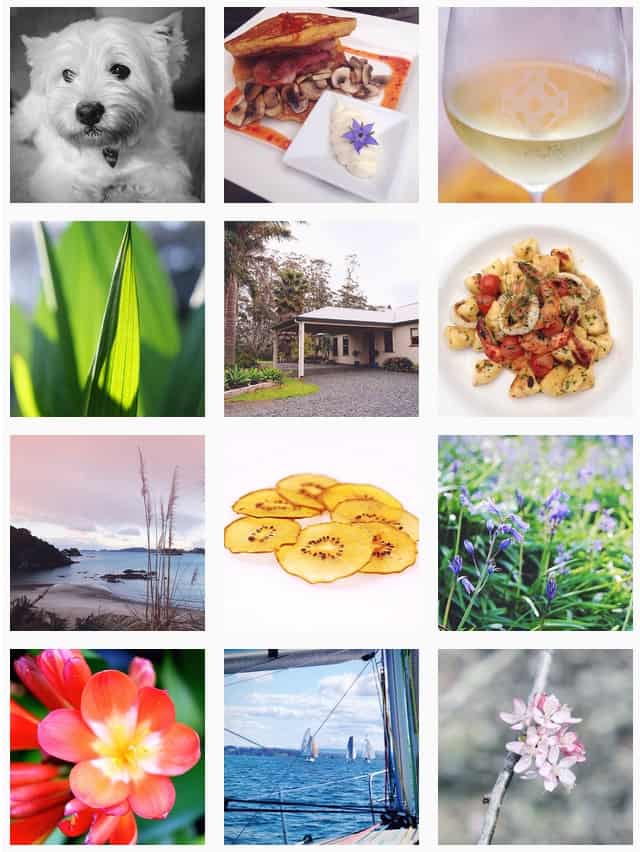 Optional Instagram add-on:
Instagram is currently the fastest growing social media network right now. It has more of a community around it than Facebook, and it's where a lot of the influencers hang out. I've personally attracted more new customers through Instagram than through Facebook – so Instagram is definitely worth considering. (You can check out my own Instagram feed here – and you don't need an Instagram account yourself to see my pics.)
Instagram is about compelling photos (rather than graphics and funnies). So if Instagram is your key focus, I'd spend time editing the photos before posting them (rather than making graphics with text added). I'll also consider the layout of your Instagram feed, to ensure that the photos have as much variety and cohesiveness as possible in terms of colours, layout, and content.
My Instagram add-on is competitively priced, because I'd hook up your Instagram account to your Facebook page. So when I post in Instagram, the post automatically gets published to your Facebook account… i.e. it doesn't take much extra time. (Splitting out the tasks would take extra time, and therefore more $.)
I'd also add hashtags (in the comments field for your photos), which is how people can find your posts. Instagram currently allows a maximum of 30 hashtags per image, so I'd do some hashtag research first of all to find a number of hashtags to use consistently. It's also good to have space for some different hashtags that are relevant to the photo, rather than using the exact same 30 hashtags each time.
The down side of Instagram is that you can't have an active website link in your post (you can only have one link, and that's in your Bio). That's just how it is. But for your corresponding Facebook Page post, I'd go in and edit it and add a link (if there is one).
In short: this is a great add-on, because you get extra visibility, in a way that's cost efficient, and I apply best practices like hashtagging!
Important! I only have capacity for 2 Instagram clients at a time, so I can give this the attention it needs. Therefore this add-on is subject to availability. Email me at cornelia@fxmarketing.co.nz to check my availability.
Other things you need to know:
These are special, low prices and are subject to pre-payment in full. I am in the business of marketing, not collecting late payments! This way I can focus fully on your work. (If you want to be invoiced in arrears, higher rates apply – please ask.)
The minimum term is one month: there are no contracts or anything horrible like that. So try me for a month and see what you think.
You need to provide me with your logo in a format that can overlaid on photos. This means it needs to have a transparent background, and be in PNG, PSD or EPS format. If you don't have this, it may be necessary to engage a graphic designer to edit your logo so that it's usable. This would be at additional cost.
Facebook Page content is only seen by a small percentage of your fans. This is intentionally done by Facebook (I have no control over this), as they want people to pay for boosted posts.
Facebook Page updates can be scheduled in advance, but this feature does not currently exist with Instagram. Therefore, I wouldn't be able to post on Instagram when I'm on vacation (and therefore you would not be charged for this add-on if I'm not available).
Although you will hold the copyright to the photos I take, I will have the right to use them as I wish. For example, I might use them in my  portfolio, or post them to my own social media accounts, or use them here on Baywatcher. (In return your business gets a lot of extra exposure online!)
All work is carried out subject to the Terms of Business of FX Marketing Limited. (FX Marketing Limited is my official business name.) The terms may be updated from time-to-time without prior notice, so I suggest that you check them before briefing me with any work. If I am instructed to go ahead with any work, it will be deemed that it is in acceptance of the current Terms of Business.
Take the next step: contact me
I'm looking forward to hearing from you!


Cornelia Luethi BSc (Hons), DipM
Creator of words, pictures, websites and Facebook Pages
PS. Are you ready to take the next step?
Either fill in the form above, or you can email me at: cornelia@fxmarketing.co.nz