Eggs Benedict are arguably the best breakfast/brunch treat. As I'm new-ish to the area, I'm on a mission to find the café with the best Eggs Benedict in Kerikeri.
Here's my verdict so far… and the opinions and tastes are my own. You might have quite a different experience and different tastebuds. 🙂
First things first: what are Eggs Benedict?
Eggs Benedict are poached eggs (with firm whites but runny yolks) on bread with hollandaise sauce.
Traditionally, Eggs Benedict are served with bacon, and there are variations with salmon and also with spinach. These all have different names depending on where you go in the world, but to keep things simple I'm grouping it all together as Eggs Benedict.
So, which café makes the best Eggs Benedict in Kerikeri?
I do have a favourite café (you'll have to read on to find out which it is!), but I haven't had the budget to sample all the Kerikeri cafés yet. (I'm doing this vital research on my own coin.) 😉 I'll update this blog whenever I have something new to add.
Here's the story so far…
Café Cinema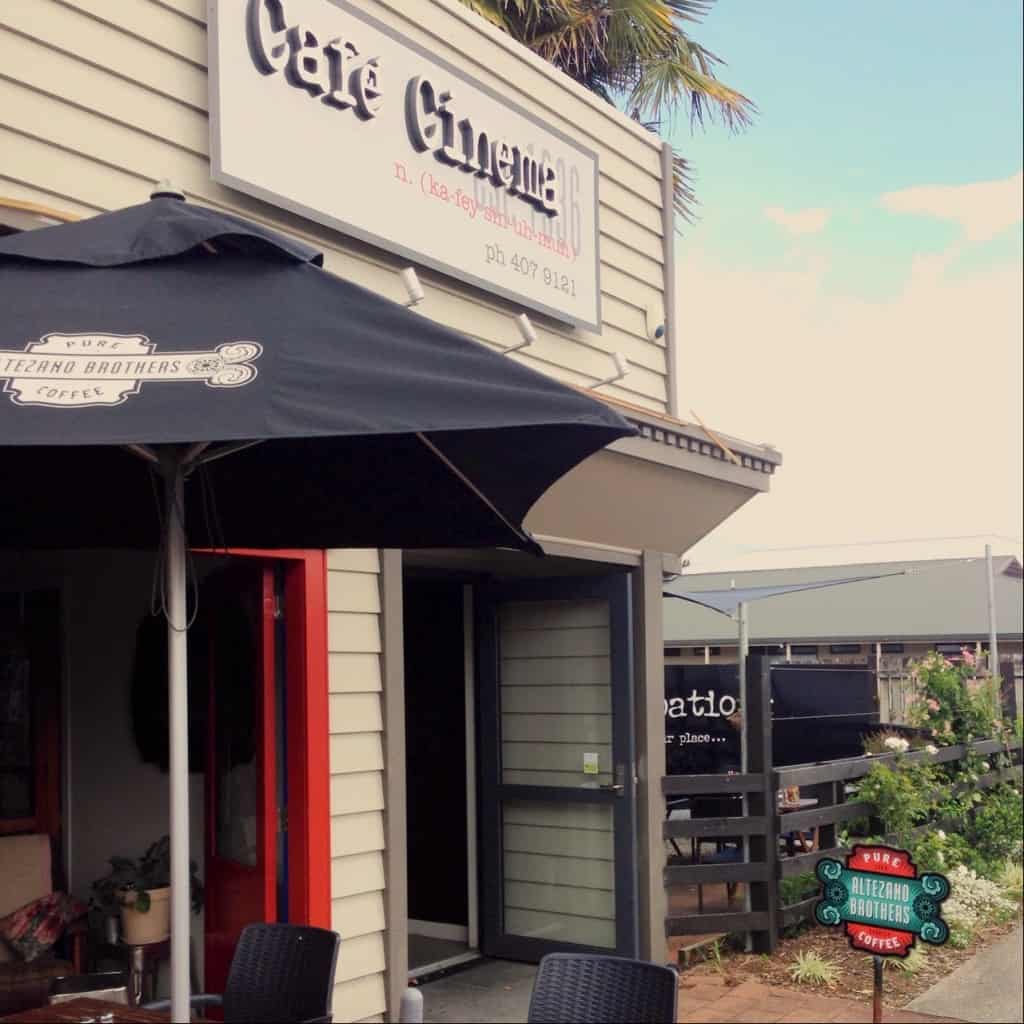 Café Cinema is at 27-29 Hobson Avenue, Kerikeri – right next to the cinema, as the name implies.
I've actually had Eggs Benedict here twice – it is the café closest to my home, so it's very convenient. The first time I had the Eggs Benedict (with salmon), the eggs were overcooked: the yolks were solid.
The next time I had the Eggs Benedict the eggs were cooked to perfection.
But, unfortunately, both times the bread was over-toasted and too crispy for my tastes.
A big thumbs up for including a generous serving of spinach with the salmon… any little extras that make the dish even yummier (and help fill my belly) are always appreciated. And the addition of chopped herbs made for a nice presentation.
A pretty good effort, but we there are so many more cafés to explore yet!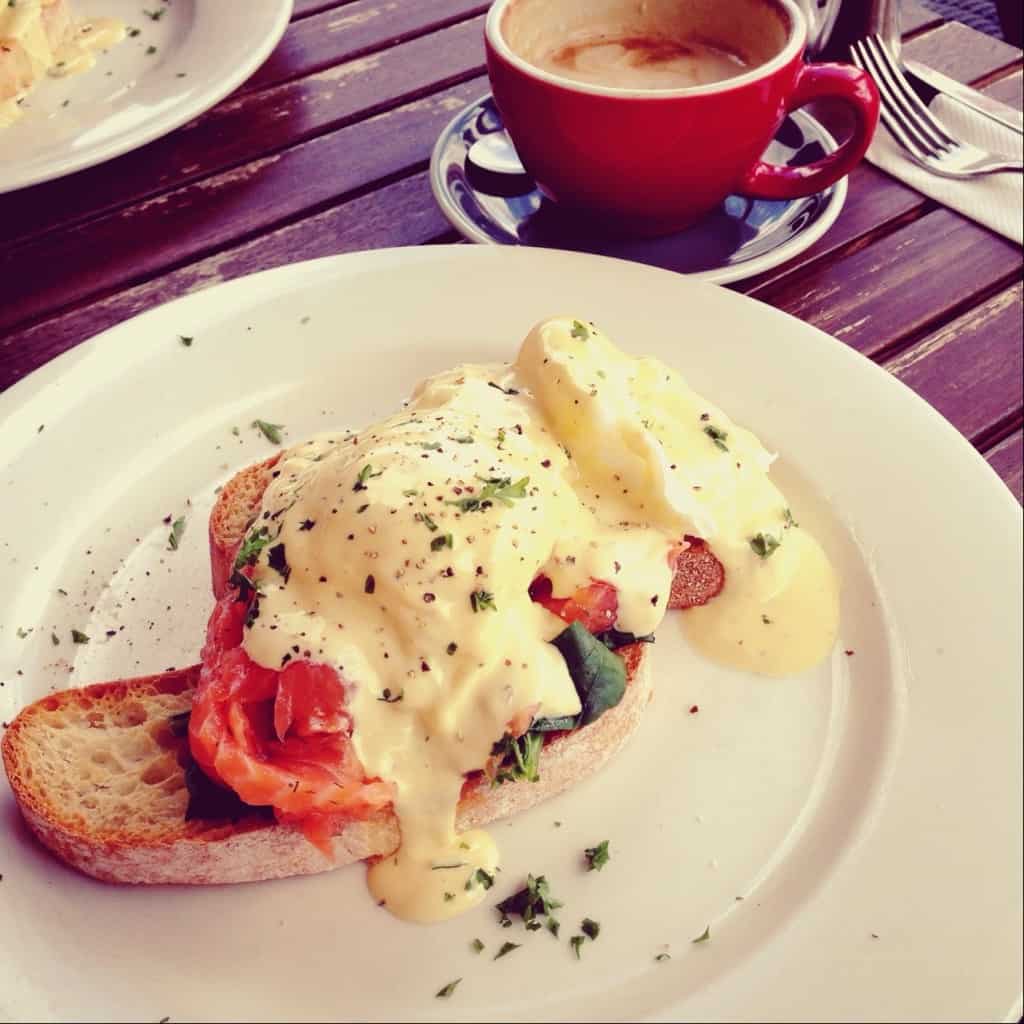 For more information on Café Cinema, see: http://cafecinema.co.nz/
Fishbone
Fishbone Café and Wine Bar is at 88 Kerikeri Road, Kerikeri. I went here with my dad, for the simple reason that this is one of the few cafés that serves Eggs Benedict at lunchtime! (Sometimes it's just too much for brekkie.)
Dad really enjoyed the Eggs Bennie here, saying that the eggs were cooked to perfection.
Me, I was a bit disappointed by the plain presentation: just eggs, salmon, muffins and hollandaise with half a dozen rocket leaves… a few more rocket leaves, herbs, or even a dash of pesto would have added to the presentation and the flavour, in my view. But the eggs themselves were indeed perfect.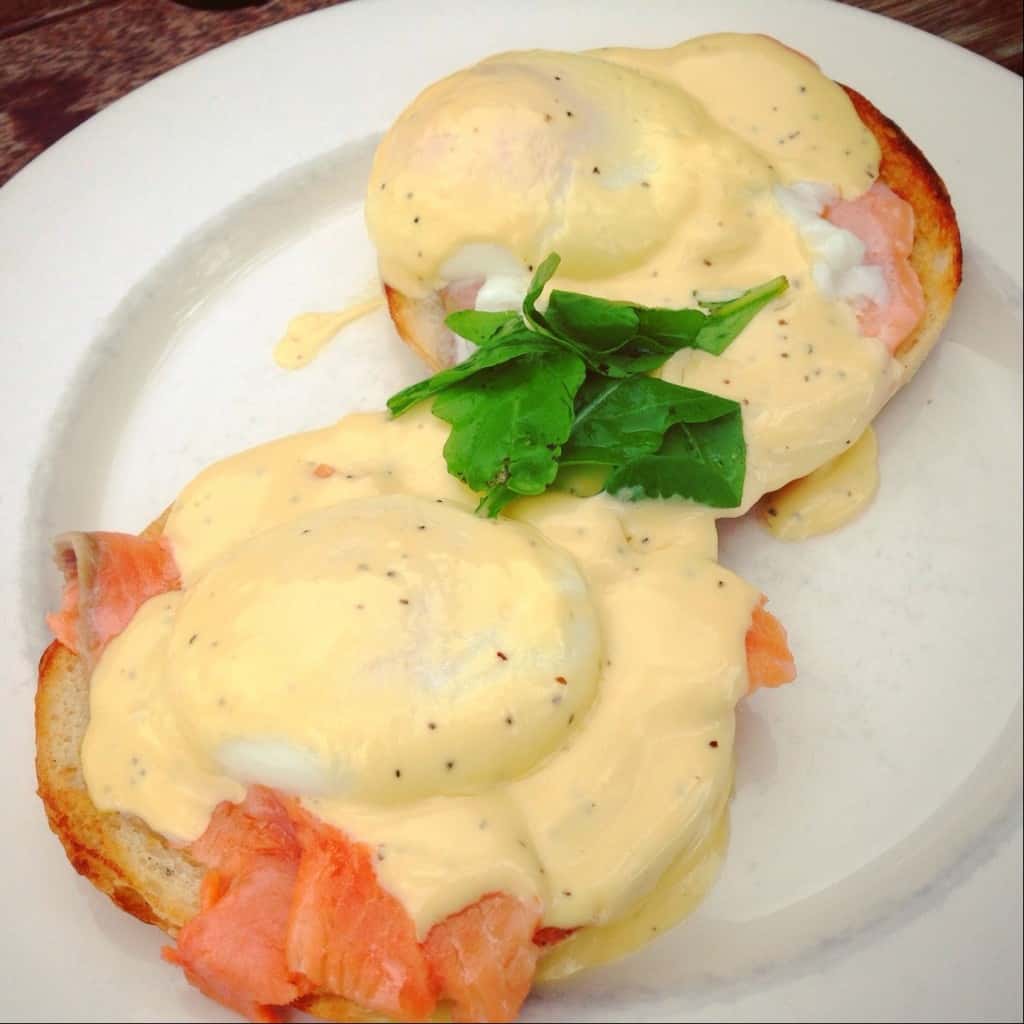 For more information, see: http://www.fishbonecafe.co.nz/
The Village Café
I'm a sucker for a café in a nice location, and The Village Café is a glorious choice on a hot, humid Northland day.
Situated in a cobblestone mall off 85 Kerikeri Road, the outside tables are nestled in the shade of leafy vines. It's a wonderful spot to meet friends and enjoy a coffee and some food.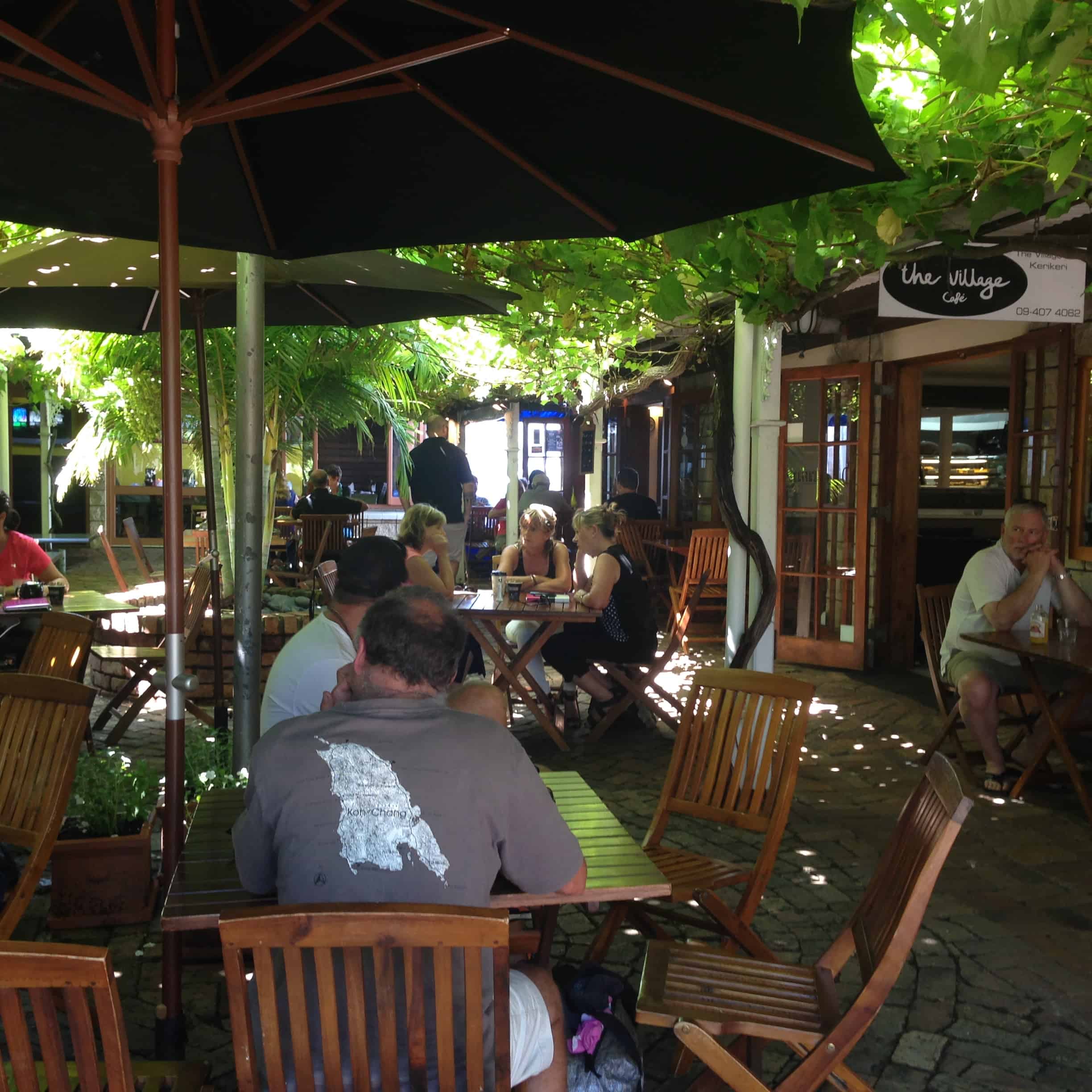 So how were the Eggs Benedict at The Village Café?
Well, I'm happy to report that they're the best Eggs Benedict in Kerikeri up to this point.
The eggs were perfect; the salmon delicious; and a nice amount of spinach with it – and all presented nicely. I just wish there was a more hollandaise sauce (as did Mr Baywatcher). Next time I might ask for some extra sauce on the side. 😉
All in all, a delicious meal – and very promptly served, too.
Café Zest and the Waffle Room
Café Zest and the Waffle Room is at 73 Kerikeri Road, right in the centre of town.
I'm sorry, but I just didn't enjoy the meal here. I'll just leave you with a picture of what I had – the vegetarian Eggs Benedict.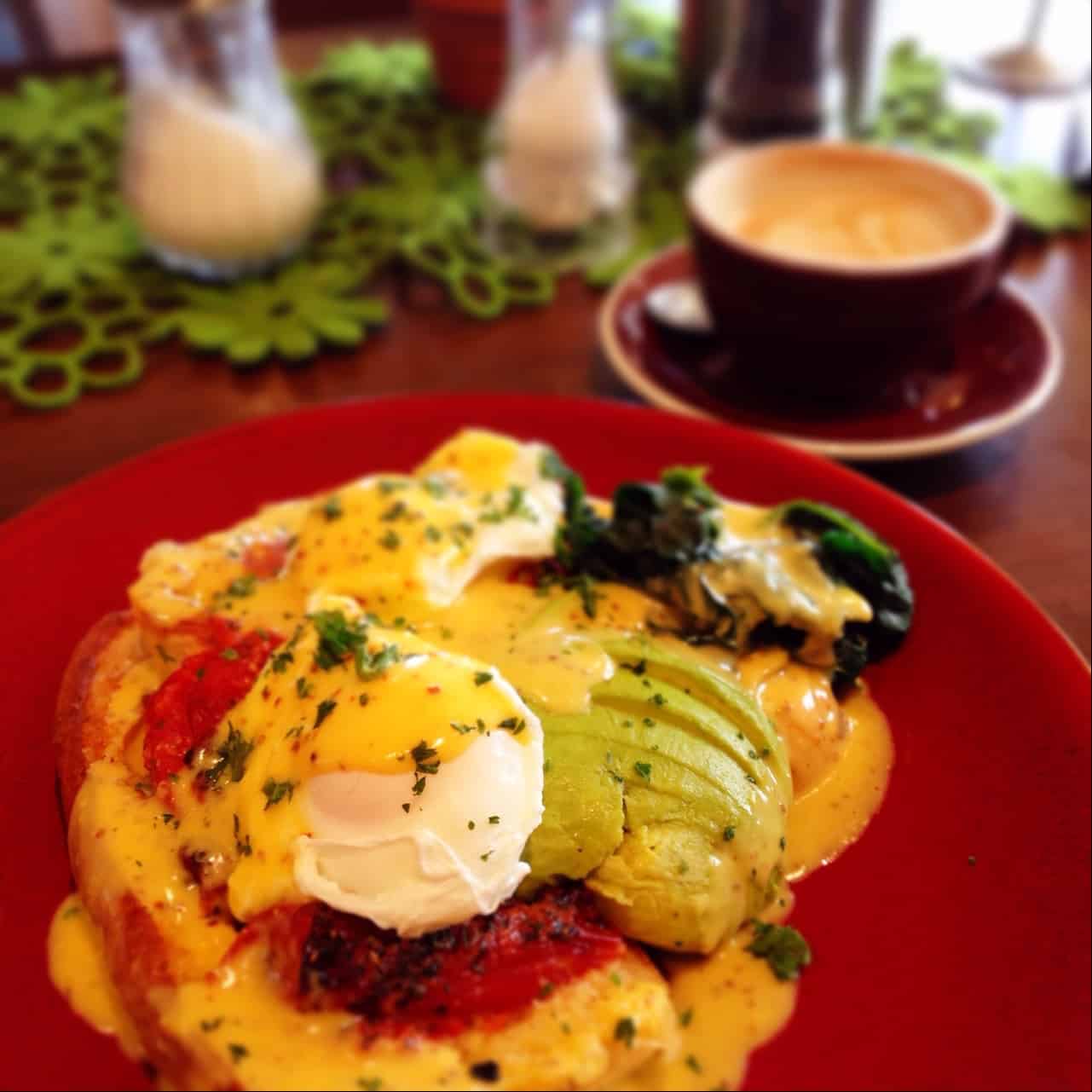 The Pear Tree
In terms of location, this is arguably the best spot in Kerikeri: right next to the Stone Store, and overlooking the Inlet. Glorious! (The address is 215 Kerikeri Road, and The Pear Tree has it's own car park at the front of the building.)
This café gets absolutely packed in summer!
It's even a nice spot in winter: you can sit on the verandah, enclosed by a clear plastic awning, so you get the view but without the weather.
… And this is the view:
I wanted to love the food as much as the location, but unfortunately the Eggs Benedict didn't quite live up to this hope. Both Mr Baywatcher's Eggs Benedict (with bacon) and mine (with salmon) were really salty. Not just the meat, but the hollandaise sauce too. What a shame. It was presented very nicely though.
(Note: we've had a meal at The Pear Tree since – not the Eggs Benedict, but something different – and I'm happy to report that the seasoning was perfect. Maybe the chef was just having an off day on our Eggs Benedict visit?)
For more information, see: http://thepeartree.co.nz/
Santeez Café
Set back from busy Kerikeri Road at number 93, next to McDonalds, it's all too easy to walk past Santeez Café without a second glance. DON'T WALK PAST – GO INSIDE!
This is by far my favourite café so far! In fact, I only discovered it a few weeks ago, and have had 3 visits to date. (And in our household, a café meal is a treat rather than a regular occurrence.)
The first thing you'll notice about Santeez Café is the beautiful courtyard that invokes a tranquil, tropical vibe with the lush plants and palm trees.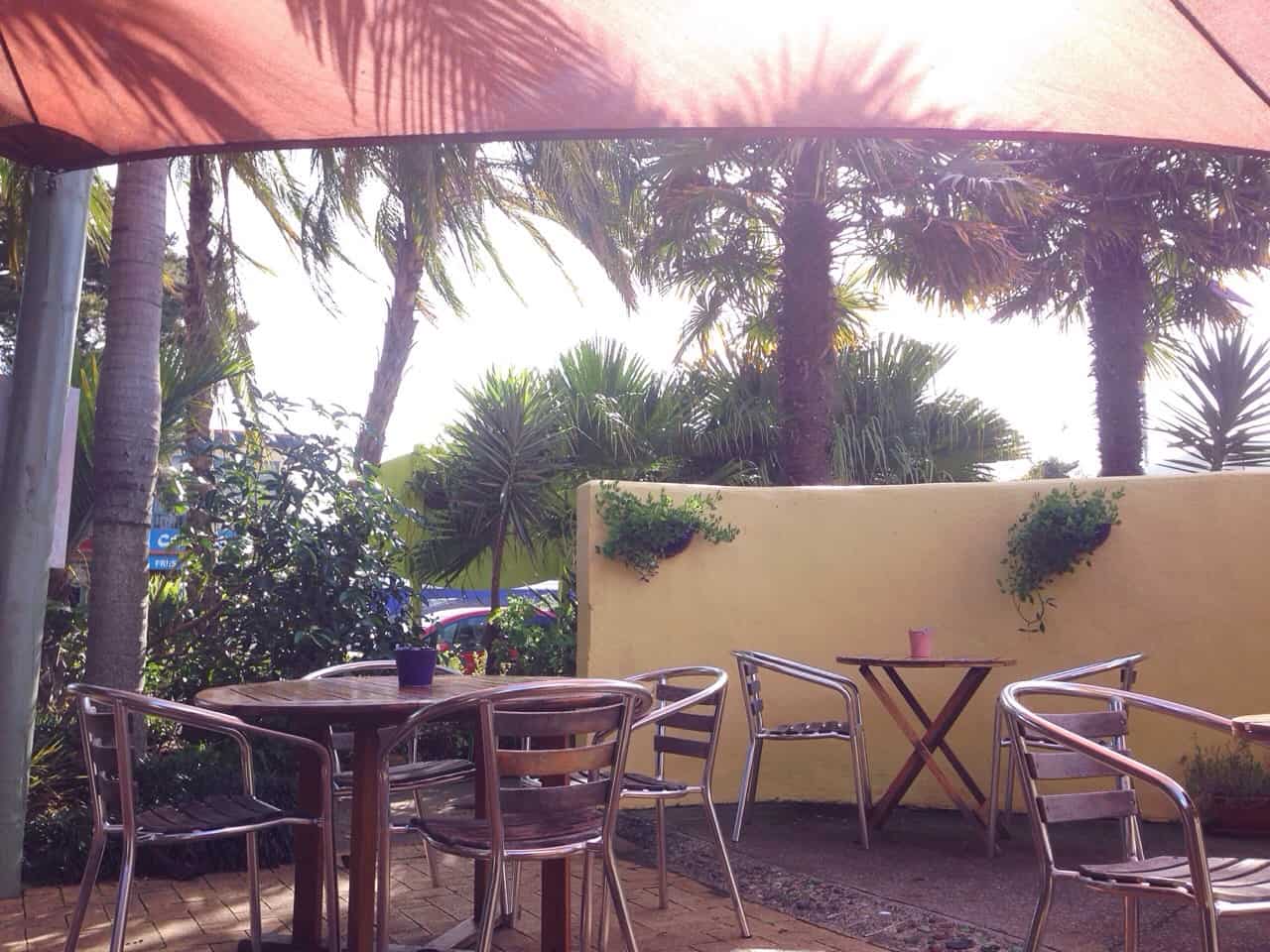 The other thing about Santeez Café is that it's gluten free. Everything on display is gluten free. And the cooked-to-order food (such as the Eggs Benedict) can be either gluten free, or with normal bread. We went for the normal bread.
And, oh my gosh it was tasty! Perfect bread; perfect eggs; a good amount of spinach; generous with the sauce; and nicely presented as well. Plus the staff are lovely and friendly.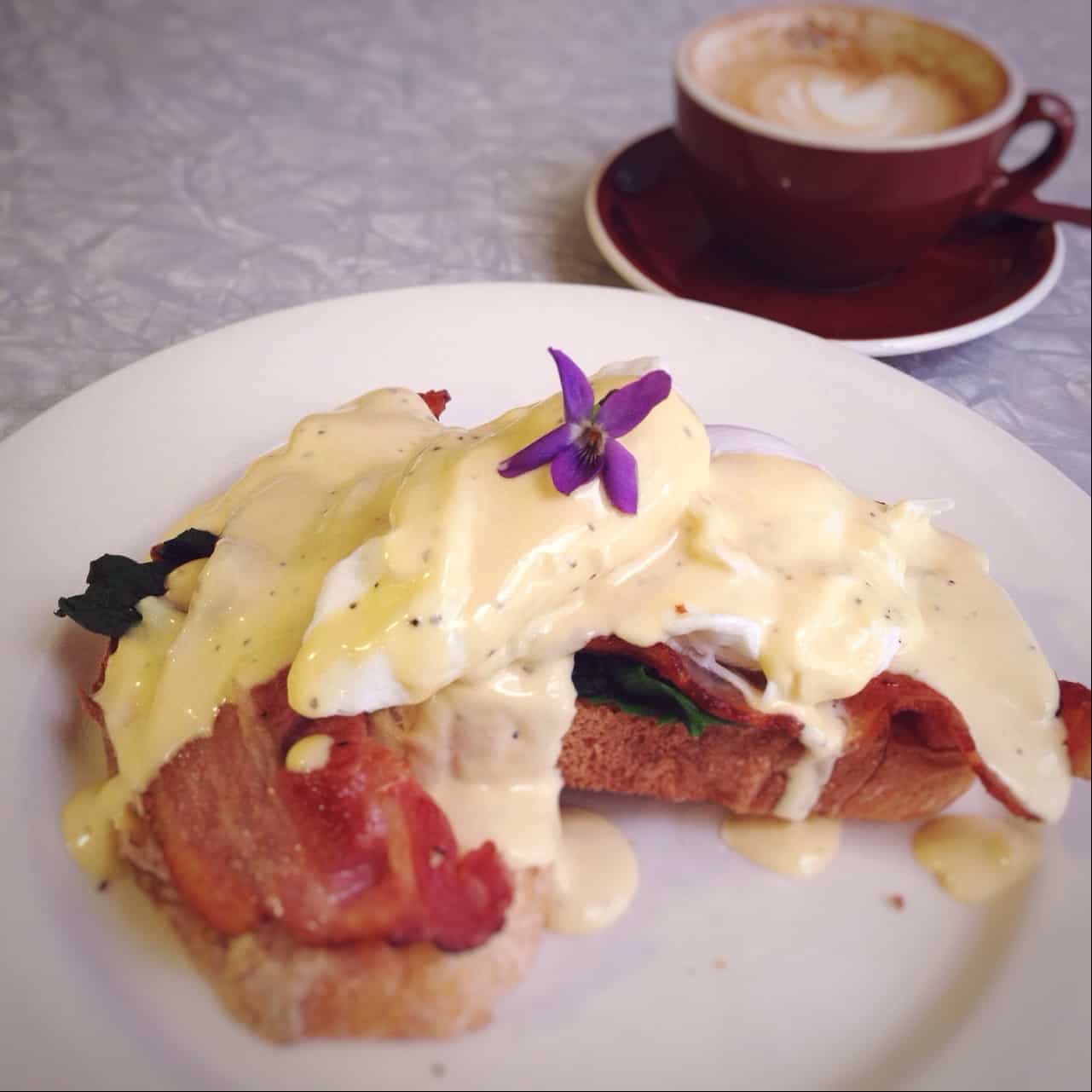 So yes, Santeez Café gets my firm vote as the best Eggs Benedict in Kerikeri so far!
There are a few other cafés to check out, and I'll add those here as soon as I'm able, but it might not be for a while, because it's gonna be hard dragging me away from Santeez! 🙂
PS. If I haven't included a link to a website for a café, it's because that business didn't have a website at the time of writing this article. 🙂
Save
Save
Save
Save
Save
Save
Save
Save
Save
Save
Save
Save
Save
Save
Save
Save
Save
Save