How to get to the Bay of Islands: your transport options
Car
Most people get to the Bay of Islands by car (or campervan). If there are good driving conditions on State Highway 1, here are indicative travel times from Auckland Harbour Bridge:
3 hours to Paihia
3 1/4 hours to Kerikeri
3 1/2 hours to Russell.
However, there are often hold ups, so it is wise to allow a bit more time if you have to arrive at a specific time.
Tip: If state Highway 1 from Auckland is blocked, State Highway 16 is a good alternative (it is also very picturesque!).
Aeroplane
If you don't have your own wheels, then flying to the Bay of Islands is a good option if you're short of time. There are several flights a day from Auckland's Domestic Airport – which is within walking distance of the International Airport.
Flying to the Bay of Islands can be surprisingly affordable – I've seen one-way fares (with carry-on luggage only) as cheap as NZ$69 from Auckland. The flight time is 40 to 45 minutes. All flights are operated by Air New Zealand.
Auckland is the only destination serviced by the Bay of Islands airport. If you want to travel anywhere else, Auckland is the hub.
The Bay of Islands Airport is just outside Kerikeri. If you need transport from there, you'll need to pre-order a taxi or airport shuttle bus.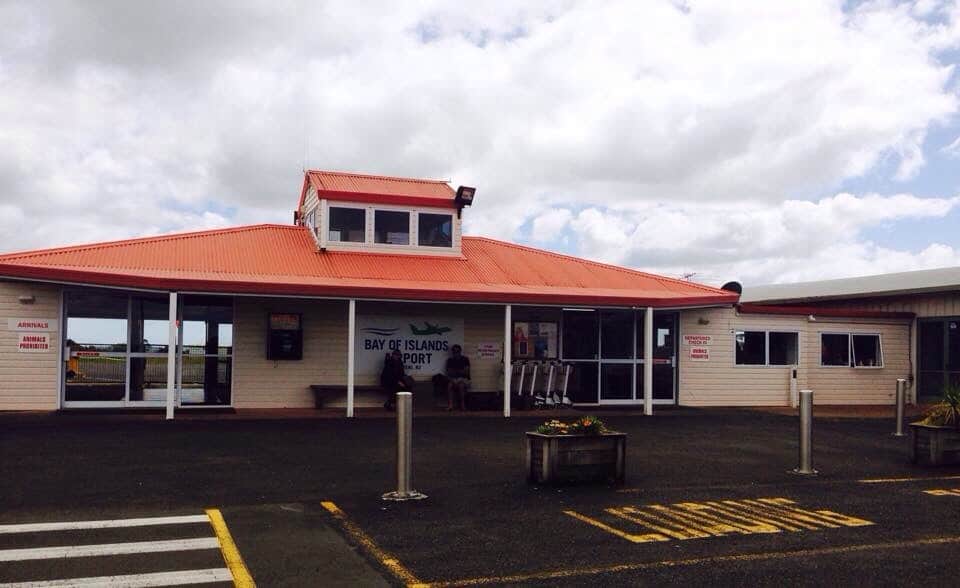 Bus and coach

There are a number of bus and coach companies that drive from Auckland to the Bay of Islands daily – this can be a cheaper option than flying.
Your options include GreatSights, InterCity, Kiwi Experience, Mana Bus, Nakedbus and Stray.
Train
There are no passenger trains in Northland (or anywhere North of the Auckland Harbour Bridge).
Getting around the Bay of Islands
Here's a map to help you get orientated with the area so you can choose your favourite Bay of Islands transport method: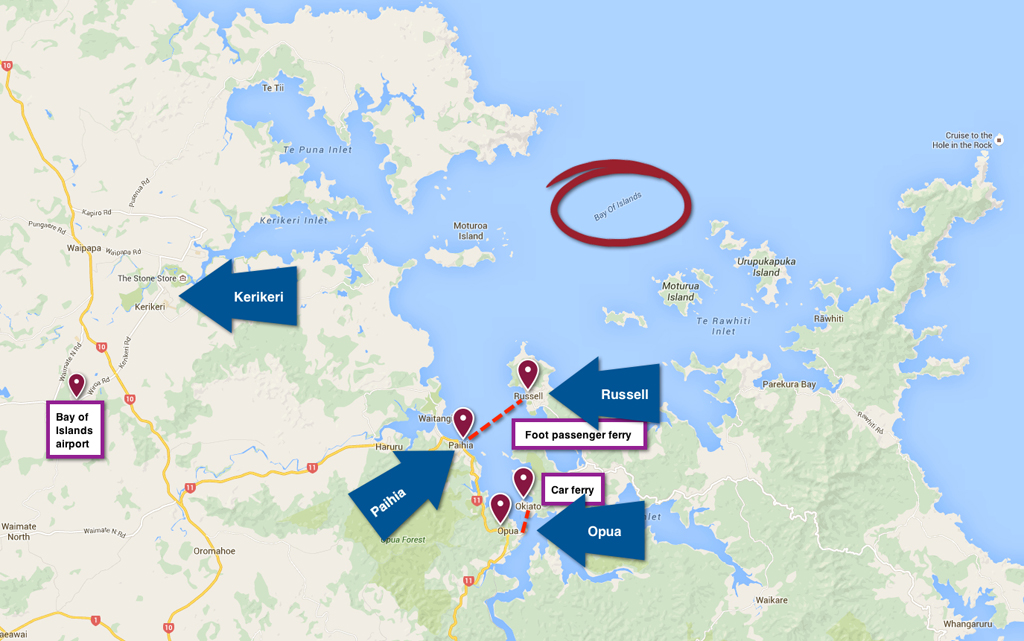 Travelling around the Bay of Islands by road
Bay of Islands transport options are limited, as there are no buses in the Bay of Islands, and no taxi stands – though there are local taxi and shuttle bus companies. You can find them online, and you'll need to contact them to pre-order the service.
Car hire is another option for getting around the Bay of Islands (e.g. if you have flown here) – you will find the car hire rental companies online.
The roads between Paihia, Opua, Russell and Kerikeri are steep and windy. There are no footpaths, so walking isn't recommended. And the roads are pretty perilous for cyclists.
And do watch out for any parking restrictions… even paradise has parking wardens who issue tickets.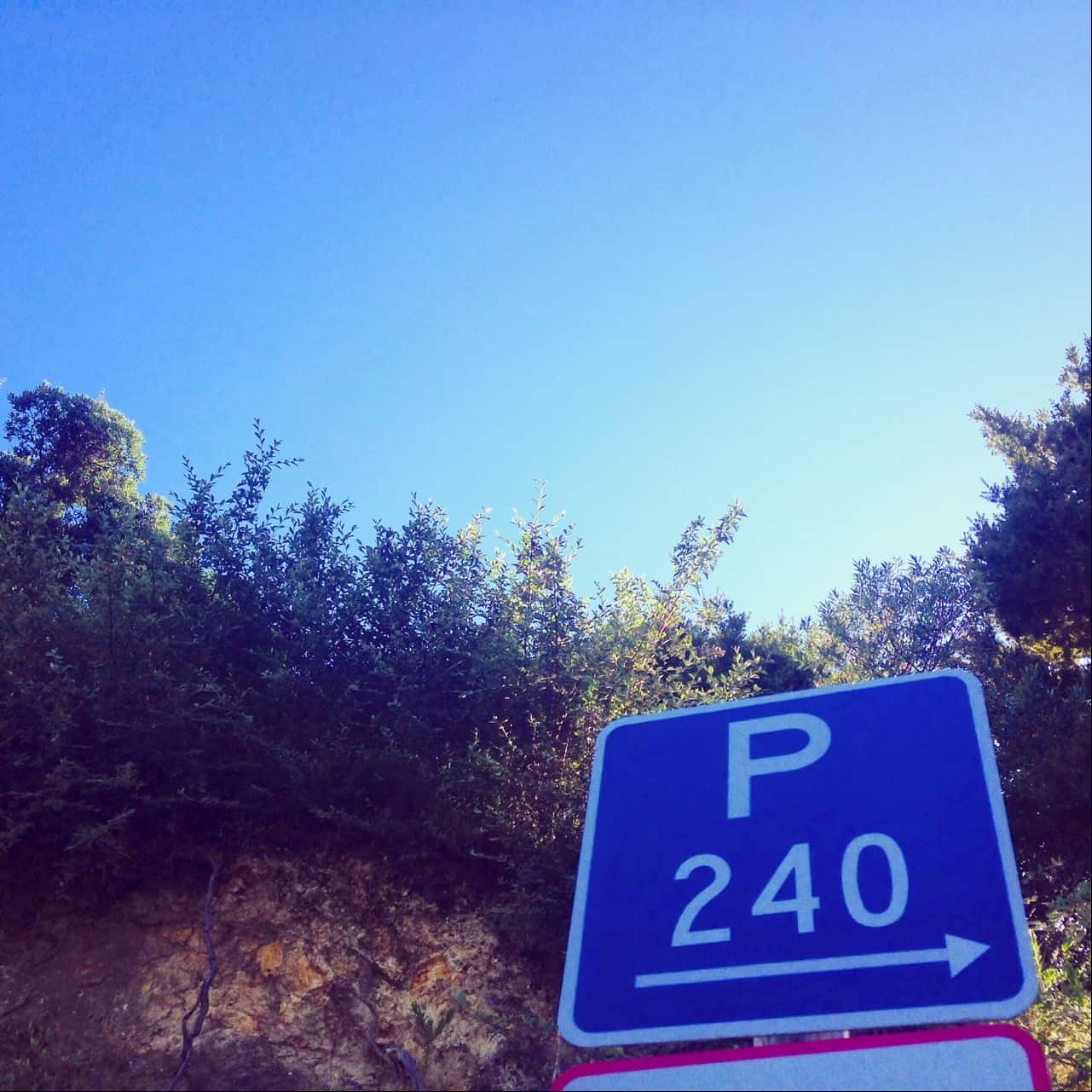 Ferry information
The road to Russell is particularly windy – it can be a lot more enjoyable to get the car ferry from Opua. Note that the car ferry goes to Okiato, not Russell itself – it's another 7.9km (8 minutes' drive) to get to Russell.
The Opua car ferry is suitable for all vehicles: cars, trucks, buses and campervans. You don't need to pre-book – simply turn up and pay on board the ferry. There's a ferry every 10 minutes, starting at around 6.40am and finishing at around 9.50pm. For more details, here's the website – be sure to click the link that says 'Vehicle Ferry' for information (it's rather well hidden on the website!).
The foot passenger ferry to Russell does go directly to Russell township: you catch this ferry from the wharf at Paihia.
In fact, there are several companies offering ferry services between Paihia and Russell, so just catch the one that's most convenient for you. You can either pre-purchase ferry tickets at the booking offices in Paihia, or pay on board. Ferry times vary according to the day of the week – for details, see here.
Distances and driving times between Bay of Islands towns (by road):
Paihia to Opua: 7 minutes (5.3km/3.3 miles)
Paihia to Russell: 43 minutes (15.5km/9.6 miles)
Okiato to Russell: 8 minutes (7.9km/4.9 miles)
Paihia to Kerikeri: 22 minutes (23.5km/14.6 miles)
Kerikeri to Russell: 1 hour 5 minutes (38.9km/24.2 miles)
Opua to Kerikeri: 29 minutes (28.8km/17.9 miles)
Please take care driving on the windy roads in Northland. And if you go off the main roads, you may encounter gravel roads. Plus you'll see big, huge logging trucks wherever you go. It is not easy driving in this part of the world, so please be safe!
And remember, to always always drive on the left side of the road.