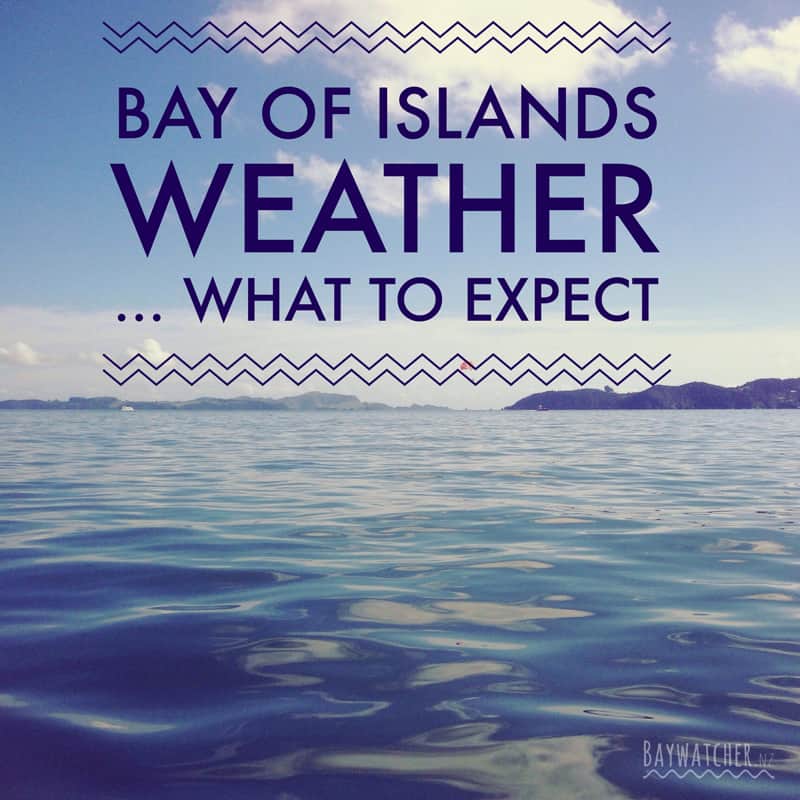 The Bay of Islands weather is described as being sub-tropical: that generally means warm and humid summers, and heavy rainfall (with high humidity) in winter.
The "winterless north" it is not!
Northland and Bay of Islands weather is often described as being the "winterless north" – whoever came up with that, I don't know, because it isn't quite true!
Although we don't get snow in the Bay of Islands, we do get some frosts in winter. And the damp cold can chill you right through to the bone.
That said, it's wonderful not to have snow or icy roads – and the summers can be amazing.
Remember that the seasons are reverse to the Northern Hemisphere
Before we look at the Bay of Islands weather trends, remember that the seasons in New Zealand are opposite to the Northern Hemisphere – and start on the 1st of the month rather than on the equinox:
Spring: starts on 1 September, and ends on 30 November
Summer: starts on 1 December, and ends on 28/29 February
Autumn: starts on 1 March, and ends on 31 May
Winter: starts on 1 June, and ends on 31 August.
So let's look at the weather trends…
Bay of islands weather trends
Here are the average temperatures, plus rainfall data, for the Bay of Islands:

Please remember that the numbers are averages: it can be hotter, colder, wetter or drier than this!
Also, in summer, the region can experience storms that are the tail-end of weakening cyclones from the Pacific Islands. Here's what a good, sub-tropical rainy day looks like in the Bay of Islands (click on the image to play the short video clip):
With this varied kind of weather, be sure to check out my tips on the 3 must-bring items for your vacation in the Bay of Islands.
Microclimates in the Bay of Islands weather
Kerikeri, Opua, Russell and Paihia all have different geographical locations and topographic profiles, resulting in some microclimates. This is something I have observed for myself since moving to the Bay of Islands.
For example, it is not unusual to experience a torrential downpour of rain in Paihia – and yet Kerikeri remains completely dry. Or vice versa.
So if you're not happy with the Bay of Islands weather where you are, consider visiting a different town, and may well have a totally different weather experience!
Before you drive off in the search of better weather, here are some links to localised weather information for towns in the Bay of Islands:
Note: I haven't yet found one website that has good, accurate, up-to-date information for all these towns in the Bay of Islands. If you find one, please do let me know!
Bay of Islands weather for activities on, in, or near the sea
The Bay of Islands is a paradise for sailing, fishing, kayaking, paddleboarding, surfing, diving, and other water activities.
However, the weather in the Bay of Islands can change quickly: the sun may be shining today, but tomorrow it could be stormy.
Therefore it's vital that you check on what the wind, tide and swell is forecast to do.
The best place to check this info is the NZ MetService Bay of Islands recreational marine forecast: http://www.metservice.com/marine/recreational-marine/bay-of-islands
Please check this before doing any water-based activities, so you can be safe and enjoy your stay in the Bay of Islands. 🙂